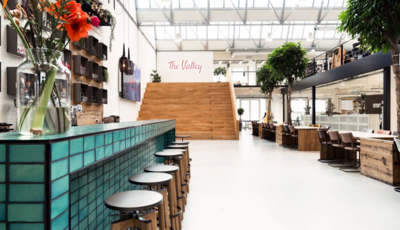 Company

The Valley Group

Sector

TMT

Activity

Full service digital agency

Date

07 July 2022

Country

Italy - Netherlands
Netherlands number 1 full service digital agency The Valley Group acquired by Italian Assist Digital
Profile
The Valley is an award-winning digital agency that combines branding, commerce and data to create best-in-class experiences for all touch points in the customer journey for large international brands. Building total CX demands an integrated way of working and this is the unique selling point of The Valley.
Headquartered in Amsterdam, it employs more than 90 experience designers, brand strategists, visual designers, back- and front-end developers, data analysts and e-CRM marketeers. Clients in their portfolio a.o are Daikin International, Unilabs, Omron, AB Inbev, Nike, Tommy Hilfiger, ING, and Bergman Clinics. The Valley been voted number 1 in 2022 in the category 'Digital Full Service Agency Large' by Emerce 100, the leading e-business companies in the Benelux.
Penfield Digital is one of the fastest growing Salesforce specialist agencies within the Benelux with a strong focus on Martech and CRM. The team includes around 25 specialists of platform specialists/consultants, developers, project managers and sales/account reps. The Amsterdam based company, with a satellite office in Barcelona, has been voted number 1 marketing automation agency within the Netherlands in 2022. Clients in their portfolio a.o. are ABN AMRO, Bynder, Randstad Group, GVB, Eurofiber, Stichd, and WWF.
Nominow is a Customer Data Platform (CDP) also to be described as a data integration software product. Nominow collects and combines customer data from online and offline touchpoints into a single customer view and enables brands to have a relevant dialog with customers at any point in the customer journey. As a single source of truth combined with segmentation and predictive algorithms, Nominow gives brands actionable data for value creation.
Assist Digital is a pan-European company focused on customer experience solutions with offices in key markets as France, Germany, Italy and the UK. Assist Digital is a provider of customer experience services and technologies that create meaningful connections between brands, customers, businesses and employees.
Assist Digital employs over 5,000 experts with expertise in marketing, sales and customer service, business process optimization, business design and UX / UI, AI and RPA, systems integration, data management, cloud service management, and IT operations. The company offers services that cover the entire customer lifecycle by putting in place multidisciplinary, human and technological capabilities, from design to development, from implementation to operations management, from change management and digital adoption.
In December 2020 Progressio SGR, on behalf of the private equity fund Progressio Investimenti III, acquired a 30% stake in Assist Digital to support the founders and the management team in the growth strategy, focused on the domestic and international market through growth paths staff and new acquisitions of companies in the sector.
Assist Digital, a company specialized in customer experience and a leader in Europe in CRM solutions - controlled by the management and 30% owned by the private equity fund Progressio SGR - has acquired a majority stake in The Valley Group, comprising full service digital agency The Valley, Salesforce powerhouse Penfield Digital and customer data platform Nominow.
The acquisition of The Valley Group is part of the international expansion process started in 2019 by Assist Digital, thanks to the strategic vision of top management, which aims to build a European leading platform for end-to-end digital services. The Valley Group is in fact the fifth acquisition completed by Assist Digital and the second completed in 2022, a few months after the integration of the German Comselect.
Assist Digital closed 2021 with a turnover of approximately € 135 million, registering a 40% increase year on year. With the acquisition of The Valley Group and Comselect, the company expects to close 2022 with a turnover of over € 170 million, leading to a growth of 30% compared to 2021.
The acquisition of The Valley Group allows Assist Digital to consolidate its positioning at a European level and in particular in the Netherlands, a strategic focus market where the company is already active as a service provider for some global clients and tech giants. The Netherlands will become the second country in terms of turnover after Italy. Adding the services of The Valley, Penfield Digital, and Nonimow creates many synergies, which allows a further strengthening of the Group's skills in Service and Experience Design, Brand Communication, Marketing Automation, Martech & Data, and increasingly strategic disciplines for brands where The Valley Group already has an important positioning. Through the integration of different team capabilities such as Design, Marketing Automation, Technology and Digital Consulting operating in Italy, UK, France and Germany, Assist Digital will be able to support large international companies and corporations in digital transformation processes, strengthening also the focus on sales, marketing and customer operations processes.
The validity of the international expansion plan led the owners and managers of The Valley Group to invest in the project, maintaining a minority share.
Enrico Donati, Executive Chairman of Assist Digital, stated: "We are very satisfied with this operation, both because The Valley and its leadership team represent excellence in the Benelux market, and because this operation strengthens the Group's capabilities in sectors that are so strategic today, such as Creative Design and Marketing Automation. The Netherlands represents a very important target market for Assist Digital that, together with The Valley team, we will continue to develop with a portfolio of services even richer than the current one".
Philip Kok, CEO of The Valley Group, declared: "The Valley Group was ready for the next step and we are on a mission to become the number one CX agency in Europe. Assist Digital is the perfect partner to realize this ambition faster and better. We were impressed by the capabilities of the 4.500 specialists that cover both customer experience as well as customer service. There aren't many agency groups that cover the total spectrum of CX, so we are ready for the big multinationals that need a partner for their CX transformation".
For more information The Valley, Penfield Digital, Nominow, and Assist Digital